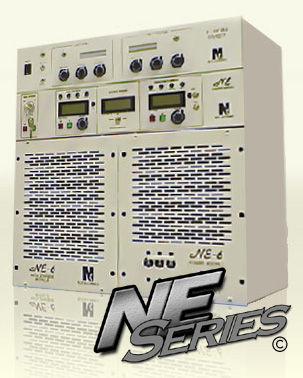 NE Series
Power Supplies
The Original Niles Electronics Electron-Beam Gun Switching Power Supply
Time tested in the field, they have been proven to outperform all current competitors
and continue to be the standard of excellence in E-Beam Gun Switching Power Supplies.
Each Power Supply consists of the following components:
Power Module
High Voltage Module
Control Module
Rack Assembly
Specifications
NE-4
NE-6
NE-8
NE-10
Max Number of Guns
One
Maximum Output Power
4 kW
6 kW
8 kW
10 kW
Maximum Emission Current
0.4 Amps
0.6 Amps
0.8 Amps
1.0 Amps
Input Voltage for Control
208 Volts, Single-phase, 50/60 Hz
Input Current for Control
3 Amp
5 Amp
Input Voltage for Power
208 Volts, 3-phase, 50/60 Hz
3-phase Input Current for Power
20 Amps
30 Amps
40 Amps
50 Amps
High Voltage Range
Adjustable from -0 kV to -10 kV
High Voltage Ripple
Less than 150 Volts
For downloadable manuals, please visit our Support page.
Please contact us at 510-252-0100 if you have any questions.